Samsung 43″ AU8000 Crystal UHD 4K HDR Smart TV – 3 HDMI (2021)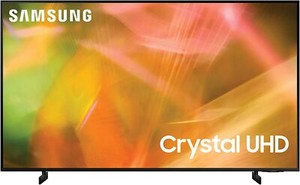 Samsung 43" AU8000 Crystal UHD 4K HDR Smart TV - 3 HDMI (2021)
ebay.com

$418.90
Features
Model: UN43AU8000
Display Technology: LED
Screen Size: 43 in
Features: Wall Mountable
MPN: UN43AU8000
Maximum Resolution: 2160p (4K)
UPC: 887276522968
User reviews
Super easy to set up. Important to know Samsung covers its 43" screen with temporary plastic so you don't spend your first few days delicately (trying) to remove all the markings from the assembly line and distribution center. My review is based on a comparison to Samsung's 32" which I just returned for a presumably damaged screen. A beautiful picture to be sure and the 43" looks twice as expensive as the 32" but sells for the same price. Samsung made a quality TV and I don't think anyone will be complaining about this 43" any time soon. Yet, both of the sets have usually left me disoriented while viewing. While the Picture can be adjusted in Settings, no matter which one I select, the actors appear to be standing in front of a green screen. Changing the setting doesn't diminish the effect these actors are being photoshopped into their scenes. Both models have numerous apps installed but the 32" model offers free apps for movie viewing (such as Pluto TV) that the 43" does not. The 43" is top-heavy with non-removable bloatware the user will have to shell out money to use. And I'll repeat, that the user can't remove these apps on their home screen. No doubt, Samsung gets a kickback for "product placement" on our TV, while we TV owners are forced to have these ads in our line of vision every time we go to our Home Screen. Ugh.
TV speakers are tinny, even with equalizer feature. Solved with self powered Klipsch bookshelf and small sub-woofer speakers using optical audio interface. No need for another AV receiver. Awesome sound as well as picture quality. Good value for a 4K TV.
Good size for a small apartment. Samsung has a very nice picture just using the default values to start with. Very thin and light tv. Makes it easy for one person to set it up in just a few minutes. The 3rd HDMI will come in handy.