Samsung 50″ AU8000 8 Series Crystal UHD HDR Smart TV – 3 HDMI (2021)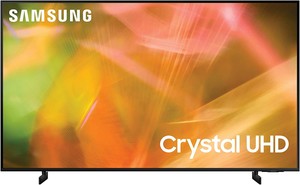 Samsung 50" AU8000 8 Series Crystal UHD HDR Smart TV - 3 HDMI (2021)
ebay.com

$497.99
User reviews
This TV arrived in 4 days via UPS in excellent condition. No damage to the outside carton or to the TV. Physical unpacking and set up was easy. Complying with all the Samsung setup conditions was intrusive and offensive. It left a bad taste. It could use an additional HDMI port and traditional RCA jacks (red, yellow, white). It would be charitable to describe the remote as minimalist. We purchased an inexpensive universal remote with real channel buttons and functional controls and it made a positive difference. Voice control isn't a necessary feature for us. This TV meets our requirements but it's a bit pricey for what you get.
Great display, sound, and performance. A great investment if you want an excellent TV for the$$$$. Definitely recommend it to anyone with a low budget or that don't want to spend too much on a TV.
Beautiful, bright picture. Minimalist remote (but replete with features).